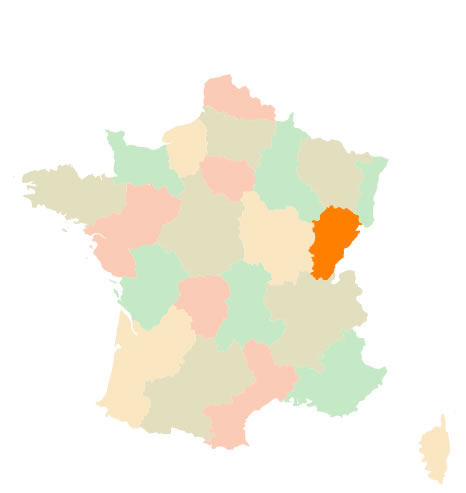 Uncover great Holiday Parks in the Franche Comte area of France. If you are looking for a static caravan, holiday lodge or chalet then you can discover the perfect holiday park for you.
Franche Comte is a great location for a self catering family holiday at one of the 13 parks with luxury holiday caravans or lodges to hire. If you are planning a holiday in Franche Comte for a young family look out for the





(playpark, indoor pool and outdoor pool)
Holiday parks offer great value for money as caravan accommodation is generally cheaper than a cottage or lodge and offers just as much space. So a caravan holiday at a Franche Comte holiday park is a great way to enjoy a cheap self catering holiday in Franche Comte
There are 13 (you are currently viewing 1 to 13 ) holiday parks to you in Franche Comte, France.
Refine your search
By Area
•
Bonnal
•
Chatillon
•
Clairvaux-les-Lacs
•
Doucier
•
Huanne-Montmartin
•
Lac de Chalain
•
Mesnois
•
Ornans
•
Parcey
•
Patornay
•
Rougemont
by accommodation or facilities on offer
















Domaine de Chalain









Doucier
Lac de Chalain
Franche Comte
France

Set by a lake in wonderful forested countryside, with a fantastic waterpark for the whole family. This parc offers the attractions of a great waterpark, combined with a beautiful setting on the eastern shores of Lac de Chalain. The blue waters of the lake are backed by the forested Jura hills, and offer a wonderful natural setting for relaxing on the lakeside beach and enjoying the scenery, or hiring a canoe or pedalo. [More about

Domaine de Chalain

...]

Campsite Domaine de Chalain










Doucier
Franche Comte
France

Camping Domaine de Chalain is beautifully located in a wooded area 500 metres from the Lac de Chalain near the village of Doucier. From Domaine de Chalain campsite you can visit the impressive waterfa? [More about

Campsite Domaine de Chalain

...]

Campsite Les Bords de Loue









chemin du Camping
Parcey
Franche Comte
France

Les Bords de Loue is an attractive family campsite located in the Jura, the beautiful and charming area that lies partly in eastern France and partly in Switzerland. Les Bords de Loue means 'on the ba? [More about

Campsite Les Bords de Loue

...]

Campsite Yelloh! Village Fayolan









BP 52
Clairvaux-les-Lacs
Franche Comte
France

Yelloh! Village Fayolan campsite is located in the middle of the French Jura. Positioned by the beautiful Lake Clairvaux and the impressive Herisson waterfall you can enjoy nature to the full. In addi? [More about

Campsite Yelloh! Village Fayolan

...]

Campsite Le Val de Bonnal









1 chemin du Moulin
Bonnal
Franche Comte
France

Five-star family campsite Le Val de Bonnal is located in the rural Franche-Comte region of France, between the Vosges Mountains and the Jura. Having an expansive watersports area around four bathing l? [More about

Campsite Le Val de Bonnal

...]

Campsite Sites & Paysages Beauregard









2 Grande rue Mesnois
Mesnois
Franche Comte
France

Sites & Paysages Beauregard is located in Jura in the east of France, between Burgundy and Switzerland in the heart of a region with many lakes and the River Ain. This small campsite is situated in lu? [More about

Campsite Sites & Paysages Beauregard

...]

Domaine de Chalain









Doucier
Lac de Chalain
Franche Comte
France

Domaine de Chalain is a long-time Canvas favourite. This is a large and lively site, that is the ideal location for an active family holiday, beautifully set beside a lake of shimmering water with a backdrop of steep hills. [More about

Domaine de Chalain

...]

Camping Val de Bonnal










Rougemont
Franche Comte
France

The spacious grounds of this former water mill link up with a series of fun-for-all lakes in one of France's most green and pleasant regions. Aquatic adventures will be divided between the water park with water slides and the swimming lake and beach. Canoeing is another popular pursuit whilst on dry land cycling and hiking enthusiasts will find a multitude of trails. A premium Castels site for some time, Bonnal proudly evokes the charm and individuality of this tranquil backwater which serves as a great gateway to Switzerland and Italy. [More about

Camping Val de Bonnal

...]

Campsite Sites & Paysages La Roche d'Ully









5 allee de la Tour de Peilz
Ornans
Franche Comte
France

Camping Sites & Paysages La Roche d'Ully is the ideal holiday destination for every type of camper. Located in the valley of the Loue River in the Jura Mountains, it borders the historic town of Ornan? [More about

Campsite Sites & Paysages La Roche d'Ully

...]

Campsite Le Moulin









chemin du Camping
Patornay
Franche Comte
France

Campsite Le Moulin is set in beautiful grounds, five hectares of woods that will charm nature lovers. The campsite is situated in lakeland by the banks of the river Ain, just a stone's throw from the ? [More about

Campsite Le Moulin

...]

Campsite Domaine de l'Epinette









15 rue de l'Epinette
Chatillon
Franche Comte
France

You are in luck at the Domaine de l'Epinette campsite. You will be on holiday in the French Jura, on a campsite right by the river with excellent canoeing (canoes are available to hire) and swimming o? [More about

Campsite Domaine de l'Epinette

...]

Campsite Du Bois de Reveuge









route de Rougemont
Huanne-Montmartin
Franche Comte
France

Camping Du Bois de Reveuge has every right to call itself a 4 star camp site. You will be spoilt with 'Grand Confort' here! And this in a wonderful location in the Doubs region of eastern France, in t? [More about

Campsite Du Bois de Reveuge

...]

Camping la Pergola









Marigny
Lac de Chalain
Franche Comte
France

Camping la Pergola is nestled in a land of lakes and mountains, forests and waterfalls. Set on the edge of a lake and surrounded by woodland hills, this family-run site has all the ingredients for an active holiday. Laze on the sandy lakeside beach, or canoe, sail, windsurf or take a pedalo out on the warm waters. [More about

Camping la Pergola

...]
Records 1 to 13 of 13