Search Holiday Parks offering static caravan hire, holiday chalets & lodges in . Enjoy the outdoors,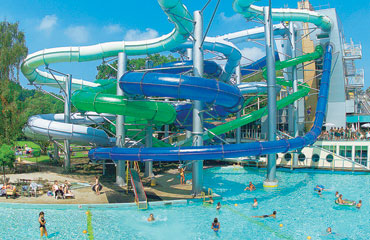 park life and fantastic countryside with all the mod cons of a home.
You will find 6 holiday parks in Holland with static caravans, park homes and lodges to rent. There are many types of holiday parcs in Holland. Our directory includes parks with diverse locations and facilities. If you are looking for parks in forests, near lakes or on elsewhere in Holland then there are many parks to choose from.
Choose your park from 6 in Holland
There are quiet holiday parks in Holland, small parks with a few facilities to bigger holiday parks offering a wide range of activities and something for the whole family.
Here are just a small selection of the featured parks on offer.
Camping Duinrell is located in the South Holland area of Holland.

Camping Duinrell is an exceptional site, in a superb location. Set in the lush woodland surroundings of a nature reserve, with a fantastic tropical waterpark and its own theme park, this site is ideally suited to families of all ages. The spacious, grassy emplacements provide plenty of space for the children to play, and there is a well-stocked supermarket and good choice of restaurants.

View holiday parks in the South Holland area.

Duinrell - Eurocamp is located in the South Holland area of Holland.

With great facilities on parc and Tiki Water Park and the bulb fields close by, Duinrell has something for everyone. One of the most popular attraction parks in Holland and lying within a nature reserve, Duinrell really is a unique holiday parc. The parc itself is surrounded by mature trees and offers a host of excellent amenities, including a separate, designated car parking area for mobile home customers.

View holiday parks in the South Holland area.

Beekse Bergen is located in the Hilvarenbeek area of Holland.

A most unusual parc in that it has its own fun park, safari park, nature trails and lakeside beach. Without ever leaving this extensive parc, you could be touring a massive safari park by car, safari bus or boat - with Eurocamp customers entitled to a free safari park ticket for unlimited entrance during their stay!

View holiday parks in the Hilvarenbeek area.

Roompot Beach Resort is located in the Kamperland area of Holland.

A chic, smart and sporty beachside retreat that has it al. Roompot Beach Resort is a bright, modern and extremely well equipped parc nestled along the Dutch coast.

View holiday parks in the Kamperland area.

Koningshof is located in the Rijnsburg area of Holland.

A friendly and authentically Dutch parc, Koningshof is also close to both Amsterdam and Rotterdam. This excellent parc offers many amenities for the whole family, including both indoor and outdoor pools, a well-stocked fishing lake and a super children's play area.

View holiday parks in the Rijnsburg area.
Where ever you end up on your holiday we hope you have a fantastic time and come back to us for your future holiday needs.