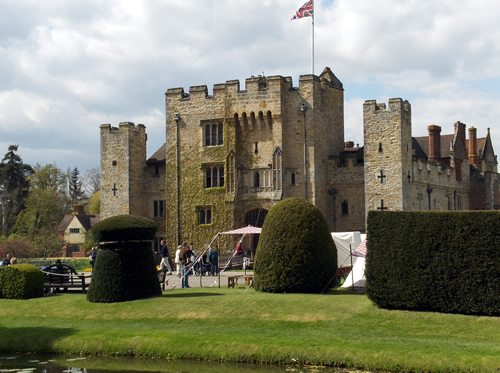 Uncover great Holiday Parks in the Kent area of England. If you are looking for a static caravan, holiday lodge or chalet then you can discover the perfect holiday park for you.
Kent is a great location for a self catering family holiday at one of the 23 parks with luxury holiday caravans or lodges to hire. If you are planning a holiday in Kent for a young family look out for the





(playpark, indoor pool and outdoor pool)
Holiday parks offer great value for money as caravan accommodation is generally cheaper than a cottage or lodge and offers just as much space. So a caravan holiday at a Kent holiday park is a great way to enjoy a cheap self catering holiday in Kent
There are 23 (you are currently viewing 1 to 20 ) holiday parks to you in Kent, England.
Refine your search
By Area
•
Birchington
•
Canterbury
•
Dover
•
Dymchurch
•
Faversham
•
Folkestone
•
Isle of Sheppey
•
Maidstone
•
New Romney
•
Ramsgate
•
Rochester
•
Sandwich
•
Whitstable
by accommodation or facilities on offer
















Marlie Farm Holiday Park









Dymchurch Road
New Romney
Kent
England

Actually its more of a driver plus 3-wood as Littlestone Golf Club is situated between Marlie Farm and the nearest beach. At Park holidays UK, we often ask team members what their favourite parks are and Marlie Farm always seems to be in the top 3! Thats high praise indeed with 24 other parks to choose from. The superb entertainment venue room has a separate bar and restaurant so you can dance or dine in perfect surroundings whatever you choose. The small indoor pool is nice for a dip after a day out and theres a safe adventure play area for the younger holiday guests. Marlie Farm is a great place for nature lovers. Adjacent to the park is a site of special scientific interest and Marlie is home to a large colony of rabbits, plus one of our very own Loopy! Come and see us at Marlie Farm soon but dont forget the carrots! [More about

Marlie Farm Holiday Park

...]

Seaview Holiday Park









St. Johns Road
Whitstable
Kent
England

The parks facilities are centred around the main entertainment venue. With so many places to visit, you will probably want to spend most days touring the garden of England. Famous castles, fishing ports, cathedral cities and dramatic coastal scenery are all within a short drive from Seaview. [More about

Seaview Holiday Park

...]

New Beach Holiday Park









Hythe Road
Dymchurch
Kent
England

Oh I do like to be beside the seaside! Well you cant get much closer to the sea than at New Beach, just over the road from the Kent coast between Dymchurch and Hythe. You wont be short of things to do, thats for sure. Kids love it! [More about

New Beach Holiday Park

...]

Allhallows










Rochester
Kent
England

Allhallows boasts a range of facilities and is positioned in a timeless, tranquil part of the country that's a perfect place to unwind.Everyone will enjoy the indoor pool and family entertainment or why not relax on the pebble beach whilst the children enjoy pony rides.There is also a spot of fishing or a round of golf available, all without leaving the park. [More about

Allhallows

...]

Birchington Vale Holiday Park









Shottendane Road
Birchington
Kent
England

Birchington Vale is close to the village of Birchington, alongside four picturesque sandy bays, all easily accessed and providing great watersport opportunities for sailing and windsurfing. [More about

Birchington Vale Holiday Park

...]

Alberta Holiday Park









Faversham Road
Whitstable
Kent
England

Situated in Seasalter near Whitstable and almost right on the beach youll feel like youre on holiday the moment you arrive. [More about

Alberta Holiday Park

...]

Harts Holiday Park









Leysdown Road
Isle Of Sheppey
Kent
England

Harts is the perfect Park; a fantastic entertainment venue and great leisure facilities including a small indoor pool, paddling pool and spa bath with sauna. [More about

Harts Holiday Park

...]

Vanity Village









Main Road
Isle Of Sheppey
Kent
England

The owner of this site has not yet submitted a description [More about

Vanity Village

...]

Priory Hill Holiday Park









Wing Road
Isle Of Sheppey
Kent
England

Located on the Holiday Isle of Sheppey, Kent, UK. Our Mission is to provide quality holiday homes at a price you can afford. Specialists in Caravan, Chalet Holiday Homes & Touring Holidays. [More about

Priory Hill Holiday Park

...]

Country View Park









Cleve Hill
Faversham
Kent
England

The owner of this site has not yet submitted a description [More about

Country View Park

...]

Beverley Holiday Park









Warden Road
Isle of Sheppey
Kent
England

The owner of this site has not yet submitted a description [More about

Beverley Holiday Park

...]

Running Waters Holiday Park









Lydd Road
New Romney
Kent
England

The owner of this site has not yet submitted a description [More about

Running Waters Holiday Park

...]

Sutton Vale Caravan Park









Vale Road
Dover
Kent
England

Sutton Vale Caravan Park has been established for over 50 years and we are able to offer a small friendly environment, set in beautiful countryside, with excellent facilities, including a swimming pool, club house, restaurant, children's playground and many more leisure pastimes. [More about

Sutton Vale Caravan Park

...]

Dog And Duck Leisure Park









Plucks Gutter
Canterbury
Kent
England

The owner of this site has not yet submitted a description [More about

Dog And Duck Leisure Park

...]

Sandwich Leisure Park









Woodnesborough Road
Sandwich
Kent
England

Reflecting the rural peace of the surrounding area and backing onto open Kentish farmland, Sandwich Leisure Park offers premium grade caravan park pitches that are spacious, level and grassy. [More about

Sandwich Leisure Park

...]

Primrose Cottage Caravan Park









Golden Hill
Whitstable
Kent
England

The owner of this site has not yet submitted a description [More about

Primrose Cottage Caravan Park

...]

Varne Ridge Caravan Park









145 Old Dover Road
Folkestone
Kent
England

The owner of this site has not yet submitted a description [More about

Varne Ridge Caravan Park

...]

Yew Tree Park









Stone Street
Canterbury
Kent
England

Over the past 19 years we have built a reputation for providing a clean, tranquil, picturesque environment where families and couples are able to enjoy the large heated outdoor swimming pool and children's play area. [More about

Yew Tree Park

...]

Sea View Park









Warden Bay
Isle Of Sheppey
Kent
England

The owner of this site has not yet submitted a description [More about

Sea View Park

...]

Pegwell Bay Caravan Park









Pegwell Road
Ramsgate
Kent
England

The owner of this site has not yet submitted a description [More about

Pegwell Bay Caravan Park

...]
Records 1 to 20 of 23