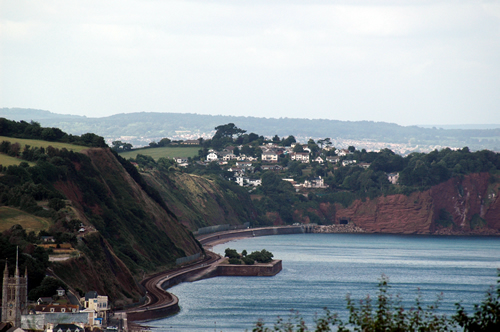 Uncover great Holiday Parks in the Devon area of England. If you are looking for a static caravan, holiday lodge or chalet then you can discover the perfect holiday park for you.
Devon is a great location for a self catering family holiday at one of the 58 parks with luxury holiday caravans or lodges to hire. If you are planning a holiday in Devon for a young family look out for the





(playpark, indoor pool and outdoor pool)
Holiday parks offer great value for money as caravan accommodation is generally cheaper than a cottage or lodge and offers just as much space. So a caravan holiday at a Devon holiday park is a great way to enjoy a cheap self catering holiday in Devon
There are 58 (you are currently viewing 1 to 20 ) holiday parks to you in Devon, England.
Refine your search
By Area
•
Ashburton
•
Axminster
•
Barnstaple
•
Bideford
•
Braunton
•
Brixham
•
Combe Martin
•
Crediton
•
Cullompton
•
Dawlish
•
Dawlish Warren
•
Holsworthy
•
Honiton
•
Ilfracombe
•
Ivybridge
•
Little Torrington
•
Lynton
•
Modbury
•
Newton Abbot
•
Okehampton
•
Paignton
•
Plymouth
•
Seaton
•
Sidmouth
•
South Brent
•
South Molton
•
Tavistock
•
Teignmouth
•
Tiverton
•
Westward Ho!
•
Winkleigh
•
Woolacombe
•
Yelverton
by accommodation or facilities on offer
















Hoburne Torbay









Grange Road
Paignton
Devon
England

With mile upon mile of stunning coastline, crystal blue sea and picturesque fishing villages nearby, it's easy to see why Hoburne Torbay is such a popular Devon holiday park. Whether you prefer contemporary static caravans or touring holidays, Hoburne Torbay's outstanding facilities and proximity to local attractions like the Dart Valley Steam Railway, Paignton Zoo and Babbacombe Model Village makes it perfect for all kinds of family holidays. [More about

Hoburne Torbay

...]

Forest Glade Holiday Park









Broad Road
Cullompton
Devon
England

4 star holiday park set in a forest clearing on the Blackdown Hills in mid Devon. Flat, sheltered touring pitches, many with electric hook-ups and hardstandings. Camping field. Full-service pitches. Self-catering holiday caravans for hire. Free swimming pool, shop with off-licence and takeaway, tennis court, children's play area, games room. Central facilities building. [More about

Forest Glade Holiday Park

...]

The Log Cabin

01244 352 090









Sheldon
Honiton
Devon
England

Phone 01244 352 090
to book a holiday at
The Log Cabin
The Hills are a nationally important landscape and were designated an Area of Outstanding Natural Beauty in recognition of the special qualities of its natural and built environment. Being relatively unspoilt, the Hills offer a rare sense of timelessness. A network of hedges, mature hedgerow trees and small copses link a rich mosaic of semi-natural habitats. The area is perfect for walks, cycling and horse riding where the quiet bridleways and byways offer many opportunities to explore and enjoy the locally distinctive buildings, archaeological remains and natural flora and fauna. Sheldon is centrally located to explore attractions further away, such as the City of Exeter with its ancient Cathedral, High Street shopping and arts centres. Historic Honiton is also nearby, giving you a chance to find out more about the honey exports that gave the town its name and, a few miles south, you'll find the unspoilt beaches of Exmouth and the rest of the Jurassic Coast. [More about

The Log Cabin

...]

Hartland Lodge 59

01244 352 090









Woolsery
Bideford
Devon
England

Phone 01244 352 090
to book a holiday at
Hartland Lodge 59
Woolsery is an attractive village, set within the unspoiled rolling North Devon countryside. The village is bordered by wonderful coastlines and country walks, and its history can be traced back to before the Domesday Book. The heart of the village was built around its Norman Church and there are many small festivals and fairs throughout the year, including the 'Woolsery Show', which has been established since the 1800's. Woolsery is also famous for its cheese. A trip to the local dairy will show you cheeses handmade using traditional methods using fresh goat's and cow's milk to produce a range of cheeses, from soft through to hard. Woolsery village is within easy reach of the sandy beaches of Westward Ho and the fishing village of Instow and Appledore. Nearby, you can also visit Clovelly with its steep cobbled streets and Hartland & Stoke with their Abbey and church, whilst surf-enthusiasts will appreciate the well-known surfing centre of Bude. [More about

Hartland Lodge 59

...]

Lodge 48

01244 352 090









Woolsery
Bideford
Devon
England

Phone 01244 352 090
to book a holiday at
Lodge 48
Woolsery is a small village in North Devon, which offers a shop and pub. Hartland Forest is nearby and includes hundreds of acres of woodland. Five miles away is the village of Clovelly, with its pretty cottages, cobbled footpath, and 14th Century harbour. The seashore from Bideford to Bude is part of the National Trust's Heritage Coastline and offers walks and stunning cliffs at Hartland Quay. Bude and the Tamar Lakes offer watersports, which means there is something for everyone. [More about

Lodge 48

...]

Golden Sands Holiday Park









Week Lane
Dawlish
Devon
England

South Devon is just about the most popular place in the country to visit and Dawlish is no exception, thats why Park Holidays UK has 3 fantastic Holiday parks there (hope we dont seem too greedy, we just love the area). Golden Sands is new to Park Holidays UK but it feels like its been part of the group for years and families have been enjoying their holidays at Golden Sands for years. Our holiday guests seem to come back year after year and many are on first name terms with our team members. [More about

Golden Sands Holiday Park

...]

Hedley Wood Holiday Park









Bridgerule
Holsworthy
Devon
England

Located on the border between Devon and Cornwall, just a few miles from award-winning coastal resort Bude, this park gives holidaymakers the opportunity to enjoy one of the South West's most picturesque regions, defined by dramatic coastlines, breathtaking landscapes and idyllic locales. [More about

Hedley Wood Holiday Park

...]

Tarka Holiday Park









Braunton Road
Barnstaple
Devon
England

Tarka Holiday Park is situated in the centre of this magnificent location, close to the centre of the unique 180 mile figure of eight walkway and cycle path, the Williamson inspired Tarka Trail. [More about

Tarka Holiday Park

...]

Langstone Manor Holiday Park









Langstone Manor
Tavistock
Devon


[More about

Langstone Manor Holiday Park

...]

Dawlish Sands Holiday Park









Warren Road
Dawlish Warren
Devon
England

The gently sloping golden sands of Dawlish Warren stretch out for more than 2 miles, providing an idyllic and safe haven for splashing about. [More about

Dawlish Sands Holiday Park

...]

Riviera Bay Holiday Park









Mudstone Lane
Brixham
Devon
England

'West is best as they say and Riviera Bay is our most westerly park. Fantastic facilities including a great indoor pool, large entertainment venue and popular restaurant make Riviera Bay the first choice for family fun holidays. [More about

Riviera Bay Holiday Park

...]

Bovisand Lodge Holiday Park









Bovisand Lane
Plymouth
Devon
England

The family-run Bovisand Lodge Holiday Park is set in an Area of Outstanding Natural Beauty on the south Devon coast. The park's well-equipped 2 and 3 bedroom caravans,as well as the 1, 2 and 3 lodges and apartments, lie within a 21-acre valley with a stunning sea view of the Cornish Coast. Bovisand beach is just a 5-minute walk away. [More about

Bovisand Lodge Holiday Park

...]

Landscove Holiday Park









Gillard Road
Brixham
Devon
England

With the picturesque harbour town of Brixham within walking distance and breathtaking scenery enjoyed from the Country Park and Nature Reserve of Berry Head just next door you dont have to go far to take in the best of the area. [More about

Landscove Holiday Park

...]

Waterside Holiday Park









Three Beaches
Paignton
Devon
England

Thats not the only reason to spend a holiday or short break at Waterside. The entertainment venue is one of our finest with plenty of room to take in our live shows - you can enjoy a different show every night of the week at Waterside and theres no extra to pay. [More about

Waterside Holiday Park

...]

Churchwood Valley









Wembury Bay
Plymouth
Devon
England

One of our top picks in Plymouth. Churchwood Valley in Wembury enjoys a naturally beautiful location on the south Devon coast. [More about

Churchwood Valley

...]

Blossom Hill Lodges









Louis Way
Honiton
Devon
England

Set close to the Blackdown Hills in East Devon's green heart, this outstanding collection of lodges nestles in a vast private estate boasting 40 acres of mature woodland, affording wonderful walks alongside meandering streams and shimmering lakes. [More about

Blossom Hill Lodges

...]

Berry Barton Caravan Park









Kiln Lane
Seaton
Devon
England

The owner of this site has not yet submitted a description [More about

Berry Barton Caravan Park

...]

Bona Vista Holiday Park









Totnes Road
Paignton
Devon
England

The owner of this site has not yet submitted a description [More about

Bona Vista Holiday Park

...]

Yeoland Farm










Yelverton
Devon
England

The owner of this site has not yet submitted a description [More about

Yeoland Farm

...]

Four Seasons Village










Winkleigh
Devon
England

The owner of this site has not yet submitted a description [More about

Four Seasons Village

...]
Records 1 to 20 of 58