Search Holiday Parks offering static caravan hire, holiday chalets & lodges in . Enjoy the outdoors,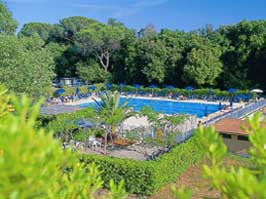 park life and fantastic countryside with all the mod cons of a home.
You will find 188 holiday parks in Italy with static caravans, park homes and lodges to rent. There are many types of holiday parcs in Italy. Our directory includes parks with diverse locations and facilities. If you are looking for parks in forests, near lakes or on elsewhere in Italy then there are many parks to choose from.
Choose your park from 188 in Italy
There are quiet holiday parks in Italy, small parks with a few facilities to bigger holiday parks offering a wide range of activities and something for the whole family.
Here are just a small selection of the featured parks on offer.
Valle Gaia is located in the Tuscany area of Italy.

A small high quality parc near the vineyards and ancient hilltop villages of Tuscany. Valle Gaia is set amidst the olive, pine and cypress trees of the stunning Tuscan countryside.

View holiday parks in the Tuscany area.

Baia Domizia is located in the Lazio area of Italy.

Caught between pine forests and a perfect beach, there is so much to see and do here that you will never want to leave. Baia Domizia enjoys a magnificent coastal setting just north of the Bay of Naples, close to all of the region's most famous sights.

View holiday parks in the Lazio area.

Union Lido is located in the Adriatic Coast area of Italy.

With a superb pool complex and private beach, Union Lido is also an excellent base for discovering Venice. Union Lido is a large, lively parc, with a range of impressive, high quality amenities. The parc's showpiece, is undoubtedly the spectacular pool complex with its lagoon pool and flowing river, which is ideal for all ages.

View holiday parks in the Adriatic Coast area.

Le Pianacce is located in the Tuscany area of Italy.

A shaded and attractive parc with excellent amenities, as well as close proximity to some of Tuscany's loveliest towns. Set on a hillside, Le Pianacce has steeply terraced pitches, all of which enjoy some shade.

View holiday parks in the Tuscany area.

Eden - Eurocamp is located in the Italian Lakes area of Italy.

Overlooking Lake Garda itself, Eden is perfect for touring and a favourite for watersports. Set on a steeply terraced hillside and enjoying spectacular lakeside views, Eden is truly a haven for all watersports enthusiasts. You can windsurf, waterski, sail a dinghy or paddle a canoe from the beaches at Salo or Baia del Vento less than a kilometre away.

View holiday parks in the Italian Lakes area.
Where ever you end up on your holiday we hope you have a fantastic time and come back to us for your future holiday needs.