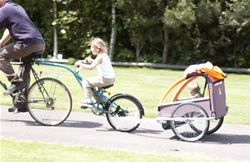 Cycling and camping holidays go hand in hand. There are three types of cycling camping holiday. These are:
Cycling touring holidays - this is where you ride from campsite to campsite along a pre-planned route. You can take your own bikes and tents and make all the arrangements yourself or there are specialist holiday companies which make the arrangements and can even hire you tents and bikes.
Single campsite holidays - here you are based at one campsite but go on cycle rides to different locations and routes each day
Family Cycling Holidays - Cycling is a great option for a family holiday. Because of the amount of camping or caravanning equipment needed for a family often you drive to a camping site or caravan site and set up. Each day or some of the days you can cycle to different places. Many campsites are located near cycle paths which make great bases for a great family cycling and camping holiday
Cycling Equipment

There are four types of bike that you can buy that can be used for a cycling based camping holiday, these are:
Mountain Bikes
Road Bike (Racer)
Touring
Hybrid Bike
Mountain bikes

Originally made to go along rough mountain tracks.
They have larger tyres with lots of grip, wide handlebars and lots of gears.
Are easy to ride.
Ideal for using on rough ground and also in towns and cities.
If you want to ride long distances on good roads, these are not the best to use.

Road Bike (Racer)

Made for speed
Generally these are very light. They have very thin tyres, drop handlebars and not so many gears.
Are not made for comfort or carrying any type of load - for this reason they are not ideal for a touring holiday.

Touring bikes

These look almost the same as racing bikes.
The main difference is that they are stronger and can carry loads such as lightweight tents and camping equipment.
The shape is slightly different and this makes them more comfortable.

Hybrid bikes

These may look like mountain bikes but they also have some of the features of touring bikes.
They are designed to be able to go on rough ground like a mountain bike, but not over very bumpy ground.
It can also be used for touring, but it is not as fast as the touring bike.
Child Bikes & Equipment for Camping Holidays
Most Kids of 8+ years and over should be able to cope with a short daily bike ride on their own bike. Teenagers and older children should be able to manage longer daily distances. For very young children it's best to be based at a single campsite. Everything will be ready for you on your return at the end of the day and you can also set the length of your cycle rides to suit your children more easily. Here is some of the cycling equipment to help make cycling camping holidays with children much easier and safer.
This picture was take on a campsite where there were no cars moving - YOU SHOULD ALWAYS WEAR A CYCLE HELMET
Child Trailers
Child trailers bikes are mini trailers that are towed along behind the bike. They have space for up to 2 small children. Your children will be all snug in a trailer protected from the sun, rain and wind. Many also have a space for luggage as well. Buy a bike trailer
Baby and Child Seats
Child seats can be fitted to the back or front of an adult bike and allow you to carry small children easily over quite long distances. A child is old enough for a child seat when able to sit up unsupported. Some seats have a reclining backrest which support their head when they fall asleep (in our experience they always do)

Buy a bike child seat
Tag-a-longs and Trailer Bikes
Tag-a-long bikes are single wheeled bikes that clamp to the back of an adult bike allowing the child to be towed. The child can pedal (and help) or just freewheel and let you do all the hard work. They are a great way to teach your child how to ride as well as the rules of the road. Buy a tag a long bike or a bike trailer
Tandem Bikes
Tandem bikes are basically long bikes with 2 seats. There are child versions with the rear seat being set for children. For older kids or adults there are adult tandems. Of course, there is no age limit for adult tandems. Buy a Tandem
Small Mountain Bikes
Once your child reaches 8 years or so, they will be able to ride a fair distance on their own bike. There are small mountain bikes available for children with all the features of adult bikes such as gears and fancy brakes.
Planning cycle rides for your camping and caravanning holiday
The UK is rich in wonderful countryside and the often rural location of campsites make them an ideal location for holiday cycle rides. Getting a cycle ride book or guide before you go will help you plan your rides better and make the most of your holiday.
Cycle Security
It's a sad fact that your cycles are at risk of theft whilst on a camping or caravan site. A good lock is essential and there are a few other things you could do to help reduce the risk of your bike being stolen.