Its always difficult to pack all your luggage for a camping or caravanning holiday in your car and caravan. Also if you store your caravan at a secure storage site then you may not want to have to bring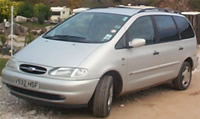 the caravan back to load it.
The roof of your car can be a very useful storage option. There are a number of options available to use the roof of your car for storage.
Roof Bars
Roof Bars are bars that attach to either the roof gutters on your vehicle or special mounting points. Some estate cars and 4x4's have roof rails already fitted. This guide will help you to make the most of your vehicle's load-carrying potential.

As car roof designs have evolved to meet the tougher safety standards roof bars have evolved with them. There are basically 3 types of roof bars available
Gutter mounted - roof bars that clamp on to the rain gutter around the rim of the roof.
Roof Rails - many new cars, especially estates, come with rails fitted as standard - they simply need bars that clip on at each end before being tightened.
For cars without gutters or rails
It is very important to get the right roof bar for your vehicle. Check with the supplier to ensure that you get the right one. When ordering make sure you specify the make, model, year of manufacture and number of doors of your car when buying.

We suggest that you only fit the roofbars to your car when the roof is dry and clean. Ensure any protective rubber pads can't work loose from the feet of the clamps. Also make sure the bars do not foul the sunroof and that loads will not interfere with the aerial. A long journey without the radio can be unpleasant.

The instructions that come with your roofbars usually show the best positions for the the two roofbars on the roof and the distance between them. Make sure you follow this advice to prevent any damage to your car.
Often car manufacturers advise that the maximum total load to put on any vehicle's roof is 75kg, including the weight of the bars. You also need to bear in mind that their is a maximum train weight for your vehicle when towing..