Welcome to the gocaravanning.com guide to caravan and motor home awnings.
Types of awning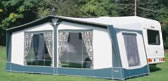 Caravan Awnings: an awning used as an extra room, attached to the side of a caravan.
Compare prices on caravan awnings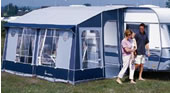 Porch Awnings: a part awning, smaller than an ordinary awning and easier to erect.
Compare prices on caravan porch awnings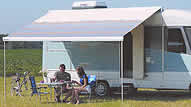 Sun Canopies: an open awning which serves as a sun shelter.
What are Awnings
An awning is a framed shelter that is attached onto a side of a caravan , RV or motor home to give additional living and storage space when on a campsite. They can be a cost effective way of increasing the space available when you are on holiday. Take care as the extra space available can be tempting to cram that little bit extra in your luggage which can make you overloaded.
How Big an Awning do I need?
How to measure your Caravan - First level the van then take a flexible tape or cord and starting at the ground, pass the cord or tape as near to the centre of the channelling gap as practicable and back to the ground level at the other end to find dimension 'a'. At the widest points of the caravan 'b' the tape or cord should drop direct to the ground. Modern awnings are not designed to follow the underside contours of the channelling.
Always fit and get familiar with your awning before going on your main holiday
This advice seems obvious to most caravanners but it has been known for people to go off abroad with out opening the package! Apart from ensuring the correct size and all items have been packed, you need time to fit the awning properly without any rush and hurry.
If you need any more information on awnings you should contact you nearest caravan dealer [directory] or take a look at these awning manufacturers listed below
Inaca has been working for over 30 years with the ultimate aim of creating a top quality product at a highly competitive price, which enables our customers to obtain maximum enjoyment from their valuable leisure time.

Isabella, the Danish awning manufacturer, has always been at the forefront with regard to innovation and development, and thus the company's products have always been the most reproduced in Europe. But European plagiarists are now having to work overtime.


Makers of a unique vehicle tent - a "car annex" to exploit the space and convenience of your personal transport, whether saloon, hatch, estate, van, 4X4 or MPV. It fits easily and quickly and is freestanding too. One model covers virtually all cars from Fiat 500 to Mercedes estate, while a range of heavy duty models fit compact and medium range vans and 4X4's, including all Land Rovers, Range Rovers and Discoveries, MPV's such as the Espace etc., and many more hi-top campers.


Whether you're a committed explorer looking for a hardwearing caravan awning or if you just want some extra space to store wet and muddy items, Bradcot have an awning to suite your needs

Broadview Blinds is the UK's leading importer of the famous Omnistor range of Motorhome awnings and accessories. All products are available to buy through this Web site, backed by the highest standards in customer service & support.

Dorema are complete specialists in the production of quality awnings and sun canopies. All awnings are produced from the very best quality materials that are available today. Constant monitoring by our quality control team ensure that our customers receive a top quality user friendly product that will give years of satisfactory use. It is with this high standard of control that enables Dorema to confidently issue each product with its own Dorema quality certificate.

Founded in Bristol and now in its 42nd year S.T. Harrison welcomes you to the new exciting range of awnings and motor annexes for 2004.

Since its brand launch in 2000 Ventura have become a force to be reckoned with in the Market and the range has been improved and extended again for this season.

CGI CAMPING is a privately-owned Company based in Northern France, some 50 miles from Calais and 20 miles from Lille.

For nearly four decades, CGI CAMPING, with its CABANON Tents and APACHE Caravan Awnings, has become one of Europe's largest, most successful and highly respected canvas goods manufacturers.


Manufacture quality awnings

You can trust the quality and depend on the service that Fiamma has established over the last 59 years, producing outstanding precision engineered RV accessories

Whatever your camping requirements, Sunnflair have the tent for you! From the mountain expedition to the Himalayas, through to the larger family who enjoy a luxury self-catering camping holiday.

The Burden Group is one of Europe's largest distributors of camping, caravan, motor home and marine products and accessories for the outdoor leisure market

Raclet, a leader in outdoor leisure facilities. Traditional quality and know-how, new materials and technologies : everything possible has been done to ensure this product line and your holiday are both a great success.


Manufacture quality awnings and tents

Manufacture quality awnings and tents
Keeping your awning in tip to condition - Storing your awning
Framework should always be stored unassembled i.e. do not store poles one inside of the other, as condensation is a major cause of rust and pole discolouration. Watch out for any signs of mildew whenever the awning has been packed in a hurry without complete drying beforehand. Mildew is a fungus which attacks fabrics only when stored in a wet or even slightly damp condition If you are forced to pack an awning wet, and sometimes you have no alternative!, then do get it out on the frame again as soon as possible. It does not matter if it is still raining.
As no maker will guarantee awnings against storm damage, we strongly advise Insurance cover against this and other risks. Awnings are manufactured for touring caravans and are not designed to be erected permanently.