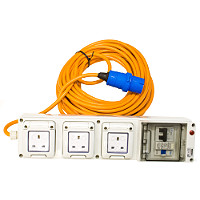 There is no reason at all why electric hook ups has to be reserved for the caravanning and motorhome community. It is perfectly possible to have electric hook up in a tent.
All you need is an electrical hookup unit which are available at most camping shops or from one of the camping suppliers on the right.
What you get with a camping electric hookup unit
One, two or three 13 amp socket(s) can be provided dependent on the unit chosen. You get a distribution box with a a 10amp double pole MCB and 25amp RCD. This should be in an integral housing and physically waether proofed and protected to a minimum of IP44.
This in turn is connected to cable with a BS EN 60309-2 plug (standard campsite fitting) at the opposite end.
You should not make your own Electric Hookup Unit - you can buy them from about £50 for a single outlet or one like this is about £90.