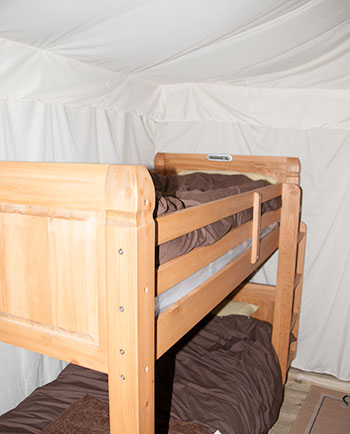 There are a number of great campsites around Europe that have a suite of ready erected tents on offer for your holiday. There are a number of good reasons why you may want to consider this as an option for your holiday:
If you are planning a holiday abroad having to take all of your camping equipment with you will soon eat up the space in your car. If you are planning on taking a trailer or roof box some ferry operators charge more for this.
It's a lot less hassle when you arrive. The last thing you want after a long drive is having to pitch a tent on arrival.
Ready pitched tents often have more of the creature comforts that you would like. Some will include electricity and appliances such as a large fridge.
If you don't have a tent and want a great value holiday then glamping or ready erected tents could be a great option.
Where can I book a ready erected tent holiday?
Many of the European sites featured on gocaravanning.com offer ready pitched tents. Canvas holidays, Eurocamp and Keycamp are specialists in this area and offer plenty to choose from. They will offer a full package holiday with all of the travel arrangements sorted e.g. ferry crossings etc. However, whilst these companies offer travel insurance its well worth shopping around to get the best deal.
What do you get with your ready pitched tent?

It will depend on the site and the company offering the holiday but typically you will get:
A large family frame tent
Beds with proper sprung mattresses
Mains electricity with sockets for things like hair dryers and to charge mobiles etc
Cooker
Fridge
Seating areas often with seats
If you have babies and young children it may be possible to hire a cot and high chair which will save valuable room in the car. Some companies will also hire linen and towels which can be really helpful if you plan to take advantage of the cheap flights that are available to the nearby airports. You could then hire a car when you arrive so that you can get about and explore the local area.

What parts of the holiday can I save money on?
Companies such as Canvas, Eurocamp and Keycamp will offer you a pretty complete deal. That said you can save money by shopping around for key elements of the holiday e.g.
Car Hire – pre-booking your car after comparing prices online can save you a fair bit. Also you don't have to buy the excess insurance or collision damage waiver insurance from the hirer as its possible to get these separately which may be a better deal.
Being flexible on travel and dates will also help you find the best deal too.