Buying from a dealer
This provides, the purchaser with many more rights than a private sale, The law takes the view that the dealer is in a better position than you to find out if the caravan is stolen or has outstanding finance against it. Usually, this means that if you find that your caravan is stolen the dealer will be required to refund your money. This is important because if the owner of the caravan has put it in storage for the winter he/she may not know it has been stolen for a few months and not report it until after you have purchased it.
Remember that you don't need to buy accessories and security products from the caravan dealer. Often buying on the internet will be much cheaper [security products]
Fit for caravanning
In addition, a dealer is required to make sure that the caravan is in reasonable order or 'fit for the purpose' they are selling it to you for. In addition, the law is likely to rule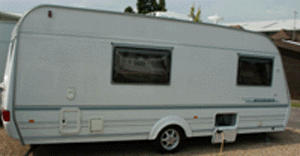 in favour of the consumer if the dealer sells a caravan without disclosing material facts about its condition.
However, to be safe always insist that it is given a full service to NCC guidelines as this should ensure that it is in reasonable order and safe. If it isn't you can ask the NCC to investigate and take action against the dealer if the service has not been done properly
Sales documentation
If you buy a caravan from a dealer make sure you keep copies of the sales documentation, as this could prove invaluable if you need to take action against them. Our experience is that the vast majority of caravan dealers are respectable and would not sell a caravan that was damp or not fit for caravanning. However, unfortunately, as with all industries there are a few dealers that will rip customers off.
Your experiences

Please email us with your experiences, good or bad, so we can include your review in our dealer review pages. This will help other caravanner's benefit from the good service you have received or steer clear of the dealers that have provided bad experience. We will include your email address with the comments so that readers can contact you for further information or clarification.