Search Holiday Parks offering static caravan hire, holiday chalets & lodges in . Enjoy the outdoors,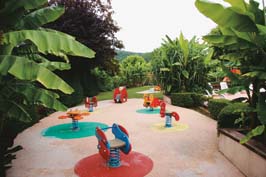 park life and fantastic countryside with all the mod cons of a home.
You will find 308 holiday parks in France with static caravans, park homes and lodges to rent. There are many types of holiday parcs in France. Our directory includes parks with diverse locations and facilities. If you are looking for parks in forests, near lakes or on elsewhere in France then there are many parks to choose from.
Choose your park from 308 in France
There are quiet holiday parks in France, small parks with a few facilities to bigger holiday parks offering a wide range of activities and something for the whole family.
Here are just a small selection of the featured parks on offer.
Le Paradis is located in the Aquitaine area of France.

Enjoying a wonderfully verdant location, this friendly parc is an ideal place to enjoy the natural beauty of the Dordogne. With excellent canoeing too, it's a Eurocamp favourite. All credit for the excellence of this parc is due to the wonderful Dutch owners. Their warmth and friendliness is legendary among Eurocamp families, who return time and again to Le Paradis.

View holiday parks in the Aquitaine area.

L'Atlantique - Eurocamp is located in the Brittany area of France.

Perfect for those seeking a lively atmosphere, though the surrounding area offers a wonderfully tranquil contrast. L'Atlantique's centrepiece is undoubtedly the swimming pool complex, which has a new covered pool, jacuzzi and health and beauty centre in addition to large waterslides and spectacular pools.

View holiday parks in the Brittany area.

Soleil Plage is located in the Aquitaine area of France.

A riverside location makes this a relaxing rural gem, though there is also lots to do both on parc and nearby. Lying on the banks of the gently flowing Dordogne, Soleil Plage enjoys a superb setting that is perfect for a family holiday.

View holiday parks in the Aquitaine area.

Le Moulin de Paulhiac is located in the Aquitaine area of France.

A stunning combination of modern facilities and lovely woodland make this a popular choice with visitors. Beyond the beautifully restored watermill that welcomes you at the entrance, you'll find a parc of welcome contrasts. On the one hand, it's a verdant, rural parc with large grassy pitches set amidst the dappled shade of walnut, oak and apple trees.

View holiday parks in the Aquitaine area.

Chateau Lez Eaux is located in the Normandy area of France.

Popular as a stopover on the journey south, this parc also offers superb facilities and a really tranquil location. Located close to the main route down the Cherbourg peninsula, this is a quiet, friendly 'Castels' parc with a versatile location.

View holiday parks in the Normandy area.
Where ever you end up on your holiday we hope you have a fantastic time and come back to us for your future holiday needs.