Search Holiday Parks offering static caravan hire, holiday chalets & lodges in . Enjoy the outdoors,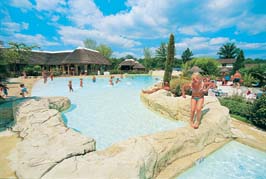 park life and fantastic countryside with all the mod cons of a home.
You will find 308 holiday parks in France with static caravans, park homes and lodges to rent. There are many types of holiday parcs in France. Our directory includes parks with diverse locations and facilities. If you are looking for parks in forests, near lakes or on elsewhere in France then there are many parks to choose from.
Choose your park from 308 in France
There are quiet holiday parks in France, small parks with a few facilities to bigger holiday parks offering a wide range of activities and something for the whole family.
Here are just a small selection of the featured parks on offer.
Les Alicourts Resort is located in the Loire area of France.

A spacious holiday parc with excellent facilities that include a superb pool complex and lake, all set within an attractive forest location.

View holiday parks in the Loire area.

International Maisons-Laffitte is located in the Centre area of France.

While it makes discovering the delights of Paris easy, International is also a tranquil and relaxing parc. Paris offers so many famous sights - the Louvre, Eiffel Tower, Arc de Triomphe, Notre Dame and Sacre Coeur, to name but a few.

View holiday parks in the Centre area.

Criques de Porteils is located in the Languedoc Roussillon area of France.

Perched between the mountains and the sea, Criques de Portails offers much to discover both on parc and beyond. Nestled on the rocky coves that typify this small corner of France, this terraced Castels parc combines unique scenery with direct access to several small pebble beaches. Premium Pitches are also available offering the most spectacular views on your doorstep.

View holiday parks in the Languedoc Roussillon area.

Le Beach Garden is located in the Languedoc Roussillon area of France.

With direct access to the beach at Marseillan Plage this is the perfect park to book if you are looking to enjoy the sun and beach. There is loads to do on the park as well.

View holiday parks in the Languedoc Roussillon area.

Chateau des Ormes - Eurocamp is located in the Brittany area of France.

While the woodland setting is verdant and peaceful, this is also a parc for those who like the active life. Very lively in high season, yet a favourite for all ages in May and June. Overlooked by the Chateau and set amidst 400 acres of wooded parkland, des Ormes is clearly no ordinary parc.

View holiday parks in the Brittany area.
Where ever you end up on your holiday we hope you have a fantastic time and come back to us for your future holiday needs.