Search Holiday Parks offering static caravan hire, holiday chalets & lodges in . Enjoy the outdoors,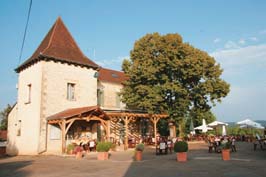 park life and fantastic countryside with all the mod cons of a home.
You will find 308 holiday parks in France with static caravans, park homes and lodges to rent. There are many types of holiday parcs in France. Our directory includes parks with diverse locations and facilities. If you are looking for parks in forests, near lakes or on elsewhere in France then there are many parks to choose from.
Choose your park from 308 in France
There are quiet holiday parks in France, small parks with a few facilities to bigger holiday parks offering a wide range of activities and something for the whole family.
Here are just a small selection of the featured parks on offer.
Les Grottes de Roffy is located in the Aquitaine area of France.

While the pool complex at its heart is superb, there are also many walks and rambles nearby to tempt you away. Especially good for walkers, with plenty of attractions nearby. Les Grottes de Roffy has long been a firm favourite.

View holiday parks in the Aquitaine area.

Le Belledonne is located in the Rhone Alpes area of France.

A small and friendly parc offering lots of activities, and the ideal touring base from which to explore the mountains. It goes without saying that many people come here simply for the exquisite scenery and clear mountain air.

View holiday parks in the Rhone Alpes area.

Domaine d'Oleron is located in the Loire area of France.

A quiet parc in a peaceful location, which nonetheless offers many opportunities for exploring the local area. While the island itself can have busy traffic, the parc is located in a quiet area of St. Georges D'Oleron, with good access to the many cyclist-only roads that run around the island.

View holiday parks in the Loire area.

Le Chateau des Marais - Eurocamp is located in the Loire area of France.

With its picture postcard setting, this parc makes a lovely place to relax, or an ideal base for discovering the Loire. Enjoying a peaceful location in the grounds of a lovely old manor house, the parc has been developed by the friendly owners to a very high standard, with excellent facilities, especially for young families.

View holiday parks in the Loire area.

Les Ecureuils is located in the Loire area of France.

Les Ecureuils offers a splendidly landscaped setting combined with a wonderful beachside location. A firm favourite with young families, Les Ecureuils could hardly be better positioned, with a wide beach just across the road, where golden sands stretch for miles.

View holiday parks in the Loire area.
Where ever you end up on your holiday we hope you have a fantastic time and come back to us for your future holiday needs.