Search Holiday Parks offering static caravan hire, holiday chalets & lodges in . Enjoy the outdoors,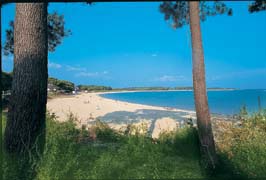 park life and fantastic countryside with all the mod cons of a home.
You will find 308 holiday parks in France with static caravans, park homes and lodges to rent. There are many types of holiday parcs in France. Our directory includes parks with diverse locations and facilities. If you are looking for parks in forests, near lakes or on elsewhere in France then there are many parks to choose from.
Choose your park from 308 in France
There are quiet holiday parks in France, small parks with a few facilities to bigger holiday parks offering a wide range of activities and something for the whole family.
Here are just a small selection of the featured parks on offer.
Des Menhirs - Eurocamp is located in the Brittany area of France.

Close to an excellent beach, Les Menhirs is also ideal location for any number of outdoor pursuits. With a fabulous location just a short stroll from the bustling seaside resort of Carnac Plage, Camping Les Menhirs is the ideal choice for a family beach holiday.

View holiday parks in the Brittany area.

La Vallee is located in the Normandy area of France.

With its idyllic rural setting, Houlgate is a treat for the eyes, and combines peace and quiet with excellent facilities. One of the premier parcs in Normandy, La Vallee enjoys a glorious rural setting not far from a sandy beach and the seaside town of Houlgate.

View holiday parks in the Normandy area.

Atlantique Parc is located in the Aquitaine area of France.

Atlantique Parc is perfect for a family holiday, situated close to a lovely sandy beach the park has 42 acres of natural landscaped grounds. The whole family will love Camping Atlantique Parc as there are activities to suit everyone's taste from the lagoon shaped swimming pool , mini farm, playground to keep the kids amused to table tennis, football, basketball, volleyball, archery and horse riding for the more active teens and adults.

View holiday parks in the Aquitaine area.

Le Soleil is located in the Languedoc Roussillon area of France.

While this is a lively parc with lots to do, it also affords plenty of opportunities to relax in a peaceful, natural location. With its enviable position right next to a superb sandy beach, Le Soleil is a great choice for a family holiday.

View holiday parks in the Languedoc Roussillon area.

Les Alicourts Resort is located in the Loire area of France.

A spacious holiday parc with excellent facilities that include a superb pool complex and lake, all set within an attractive forest location.

View holiday parks in the Loire area.
Where ever you end up on your holiday we hope you have a fantastic time and come back to us for your future holiday needs.