Search Holiday Parks offering static caravan hire, holiday chalets & lodges in . Enjoy the outdoors,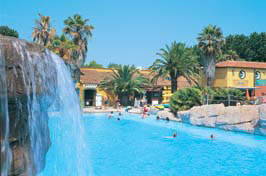 park life and fantastic countryside with all the mod cons of a home.
You will find 308 holiday parks in France with static caravans, park homes and lodges to rent. There are many types of holiday parcs in France. Our directory includes parks with diverse locations and facilities. If you are looking for parks in forests, near lakes or on elsewhere in France then there are many parks to choose from.
Choose your park from 308 in France
There are quiet holiday parks in France, small parks with a few facilities to bigger holiday parks offering a wide range of activities and something for the whole family.
Here are just a small selection of the featured parks on offer.
La Sirene is located in the Languedoc Roussillon area of France.

Ideal for active families, this attractive parc even offers the chance to try out scuba diving in the pool. This large, family-run parc simply bustles with activities and offers an exceptional range of amenities, including a large and highly appealing tropical pool complex.

View holiday parks in the Languedoc Roussillon area.

Les Deux Fontaines is located in the Brittany area of France.

The ideal place to enjoy the outdoor life, Les Deux Fontaines offers a spacious and peaceful setting. Perhaps the most notable things about this excellent modern parc are its large, spacious pitches, some of which are surrounded by hedges to offer privacy.

View holiday parks in the Brittany area.

L'Etoile d'Argens is located in the Provence Cote d'Azur area of France.

A real hidden gem, this parc nestles in secluded woodland close to a really lovely beach. Despite its close proximity to the heart of the Riviera, L'Etoile d'Argens enjoys a peaceful, rural setting with a vineyard as its nearest neighbour.

View holiday parks in the Provence Cote d'Azur area.

Les Peneyrals is located in the Aquitaine area of France.

While there is plenty to do on this lively parc, the verdant rural setting also makes it a natural and attractive option. Superbly positioned just a short drive from the Dordogne valley, Les Peneyrals is a friendly, family-run parc with helpful owners who are always on hand.

View holiday parks in the Aquitaine area.

Les Alicourts Resort is located in the Loire area of France.

A spacious holiday parc with excellent facilities that include a superb pool complex and lake, all set within an attractive forest location.

View holiday parks in the Loire area.
Where ever you end up on your holiday we hope you have a fantastic time and come back to us for your future holiday needs.