Search Holiday Parks offering static caravan hire, holiday chalets & lodges in . Enjoy the outdoors,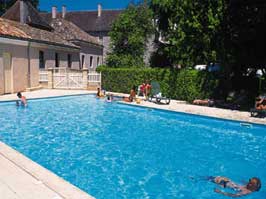 park life and fantastic countryside with all the mod cons of a home.
You will find 308 holiday parks in France with static caravans, park homes and lodges to rent. There are many types of holiday parcs in France. Our directory includes parks with diverse locations and facilities. If you are looking for parks in forests, near lakes or on elsewhere in France then there are many parks to choose from.
Choose your park from 308 in France
There are quiet holiday parks in France, small parks with a few facilities to bigger holiday parks offering a wide range of activities and something for the whole family.
Here are just a small selection of the featured parks on offer.
Le Domaine de l'Eperviere is located in the Burgundy area of France.

Chateau de l'Eperviere is a top quality 'Castels' parc in the grounds of a delightful 16th Century chateau. Ideal as both a stopover and for longer stays. Located just 16km from the A6 Autoroute du Soleil, Gigny is justly popular as an overnight stop for those en-route south.

View holiday parks in the Burgundy area.

La Cote de Nacre (Eurocamp) is located in the Normandy area of France.

Within easy reach of the Channel ports, this modern family-run parc is situated close to miles of sandy beaches. La Cote de Nacre is a relaxing parc but with plenty to do and explore both on site and off.

View holiday parks in the Normandy area.

L'Etang de la Breche - Eurocamp is located in the Loire area of France.

The wonderfully green and open grounds make this is a wonderful place in which to enjoy the great outdoors. The first thing that will strike you about this superb parc is the wonderful space and openness of the grounds. There are simply acres and acres for you to relax in and for the children to explore.

View holiday parks in the Loire area.

Le Pachacaid is located in the Provence Cote d'Azur area of France.

The steeply terraced woodland setting here really is a joy to behold. And the facilities are superb too. Offering you the best of both worlds, this comprehensively equipped parc is set on a pretty wooded hillside, and though it's just a short drive from St Tropez and the beaches of the Riviera coast, you are pleasantly insulated from the bustle of the Riviera here

View holiday parks in the Provence Cote d'Azur area.

La Garangeoire - Eurocamp is located in the Loire area of France.

While the parc's setting is one of unspoiled rural charm, there is much to discover in the area, including spectacular beaches. La Garangeoire is without a doubt one of the most prestigious members of the 'Castels' chain. It offers you a breathtakingly beautiful setting amongst woods, meadows and lakes, yet still manages to be just a 15 minute drive from the superb Vendeen beaches.

View holiday parks in the Loire area.
Where ever you end up on your holiday we hope you have a fantastic time and come back to us for your future holiday needs.