Search Holiday Parks offering static caravan hire, holiday chalets & lodges in . Enjoy the outdoors,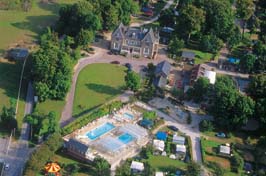 park life and fantastic countryside with all the mod cons of a home.
You will find 308 holiday parks in France with static caravans, park homes and lodges to rent. There are many types of holiday parcs in France. Our directory includes parks with diverse locations and facilities. If you are looking for parks in forests, near lakes or on elsewhere in France then there are many parks to choose from.
Choose your park from 308 in France
There are quiet holiday parks in France, small parks with a few facilities to bigger holiday parks offering a wide range of activities and something for the whole family.
Here are just a small selection of the featured parks on offer.
Chateau de Drancourt is located in the Picardy area of France.

With a relaxing atmosphere, and a close location to the channel ports, this chateau parc is ideal for young families or a first visit to France.

View holiday parks in the Picardy area.

La Bastide en Ardeche is located in the Rhone Alpes area of France.

At this parc you can choose between strolling along the rivers edge, relaxing on the sun-warmed banks, or if you fancy going further afield, a canoe trip through the limestone gorges is a great choice.

View holiday parks in the Rhone Alpes area.

Le Val de Bonnal - Eurocamp is located in the Lorraine area of France.

Offering a delightful rural setting, this is a superb place to relax, or to discover this beautiful region. Popular with sports enthusiasts and families with children of all ages. Perfectly located in beautiful countryside, the jewels in Le Val de Bonnal's crown are undoubtedly its natural lakes, one of which has its own beach.

View holiday parks in the Lorraine area.

La Grande Tortue is located in the Loire area of France.

La Grande Tortue is a small and friendly parc enjoying a pretty location that also makes it ideal for for exploring the region. The owners here will always give you a friendly welcome and you will find that this is an ideal parc for those families who like things 'rustic' and 'traditional'.

View holiday parks in the Loire area.

La Sirene is located in the Languedoc Roussillon area of France.

Ideal for active families, this attractive parc even offers the chance to try out scuba diving in the pool. This large, family-run parc simply bustles with activities and offers an exceptional range of amenities, including a large and highly appealing tropical pool complex.

View holiday parks in the Languedoc Roussillon area.
Where ever you end up on your holiday we hope you have a fantastic time and come back to us for your future holiday needs.